The 2023 Conference is NOW SOLD OUT.
It's the 20th anniversary West Coast Meeting of the Minds Annual Giving & Advancement Services Conference. The conference will be back at Cal Poly-Pomona February 8-10.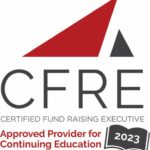 Are you an AFP Certified Fundraising Executive? We're now approved for CFRE 2023 continuing education credits! It's one-stop shopping for your CE credits all in one conference. You can download the CFRE conference session points tracking sheet for this year's MOTM conference.
2023 is the 20th-anniversary conference! Famous for its strong program content and affordability, the conference pivoted in 2020 from an on-site conference at Cal Poly-Pomona to a Zoom conference with delegates from the West Coast of the U.S. and well beyond. Now we're fully back in Pomona! With several program areas of concentration, including Annual Giving, Advancement Services/Data, Digital Fundraising and Stewardship, the conference offers sessions for new fundraising professionals, as well as seasoned program leaders.